Yirlany Moya, a United aircraft move team employee in Los Angeles, is nothing if not an eternal optimist. Which is part of the reason why, for the longest time, she wasn't too concerned about the lump that had formed in her right breast. It couldn't be serious, she reasoned. After all, she was young and healthy.
One afternoon, while talking with her neighbor Cari, Moya joked about the "little ball," as she called it. Cari shot her a serious look and urged her friend to get it checked out. Moya's sister, Joscelyn, did the same after hearing about the lump, but, for weeks, Moya stubbornly refused.
"I kept telling them, 'It's not cancer, stop being negative.'"
Finally, the pestering got to her and Moya called her mom, Esther, who is a retired nurse, for advice. Over the phone, Esther told her daughter not to worry, but talked her into coming to Costa Rica, where she was living, so that they could see a doctor together just in case.
There, a physician examined Moya. When he finished, he asked her to get dressed and meet him in his office. With a grave expression on his face, he said there was a fairly significant chance the mass was cancerous. Her mother broke down in tears, but Moya took the news in stride, not yet ready to consider the worst-case possibilities. It wasn't until she was back in Los Angeles a few days later, after a mammogram and ultrasound confirmed that she had stage-3 cancer, that reality set in.
In March of 2017, Moya underwent a double mastectomy, followed by a difficult three months of chemotherapy. By that fall, she was cancer free, but she wasn't physically able to return to work until October 2018. When she did finally get back to the airport, it was a welcome return to normalcy and a long-awaited reunion with her colleagues, many of whom are like family to Moya after 23 years with the airline.

They welcomed her back with open arms and she, in turn, talked openly about her cancer with them, hoping that it might help someone else. There's nothing wrong with assuming the positive, Moya says, but she tells other women to get checked out immediately if they notice a lump or anything else out of the ordinary. She also reminds them of the importance of yearly mammograms. And recently, when her supervisor was diagnosed with a form of cancer, she guided him through his treatments with encouragement and advice.
Sometimes, she's certain that she went through her ordeal so that she could be a beacon for others in that way. If that's the case, she feels it was worth it. Cancer gave her an ironclad resolve to spread goodness and hope. Her tattoos say it all: Inked across her chest, where her breasts once were, is an anatomically correct heart wrapped in bright pink swirls, with the words "Life doesn't allow you to be weak." On her right calf is a cancer awareness ribbon, with splotches of pink exploding out of it, symbolic of Moya's unbridled joy, which stems from her feeling of unending gratitude.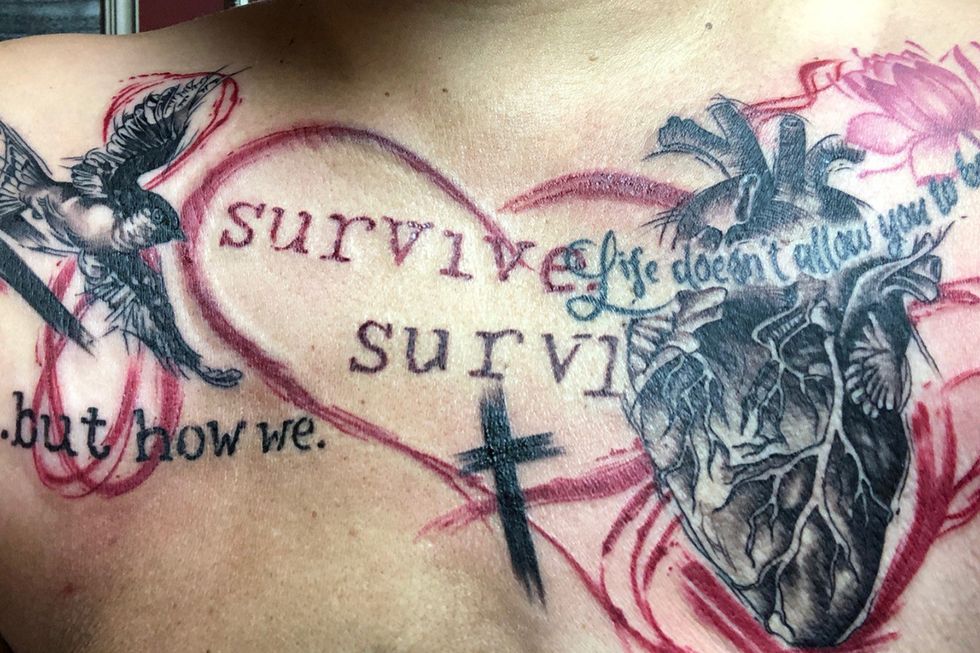 Moya's Tattoo across her chest: "Life doesn't allow you to be weak."
"I'm in a good place in my life," Moya says today, two years removed from her last round of chemotherapy. "I have a great job, and I'm blessed with a great family and great support system. I wake up every day and give thanks to God. I think there was a bigger purpose for what I went through. Ask me what it is, and I can take a guess, but I haven't figured it out yet. One day, though, I know the dots will connect."